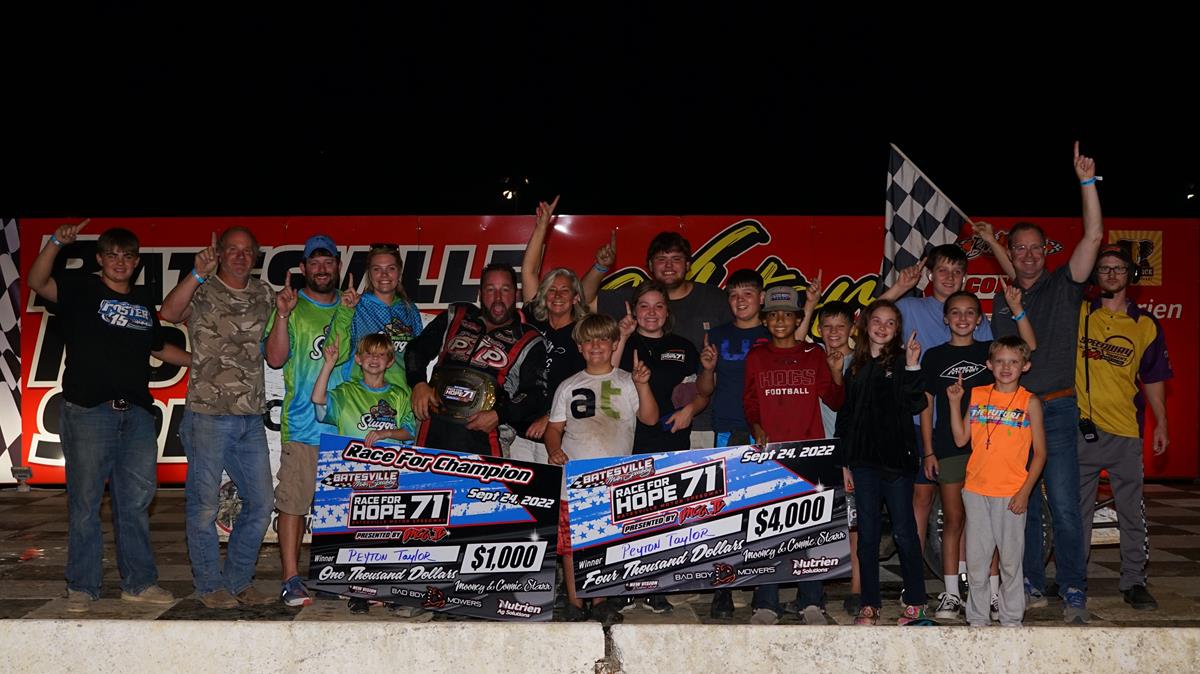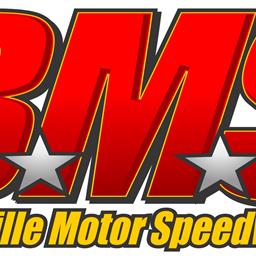 9/25/2022
Batesville Motor Speedway
---
Finale night of Race for Hope 71 2022 & Points Championship claimed by Peyton Taylor
BATESVILLE, Arkansas . (09/24/22) – The big winner of the weekend would end up being Peyton Taylor of Batesville, Arkansas to round out night 3 of the Race for Hope 71 as he claimed victory on the track and in the points battle.
Leading the field to green would be another Batesville native of the 02J, Rusty Jeffrey who was followed by Jacob Campbell of Hackett, Arkansas.
Jeft Taylor of the 5 car would take the lead on lap one and stay there for the first 10 laps of the race. He would be followed closely in 2nd position by younger brother Peyton Taylor as the finale event shaped up to be a battle of the Taylor brothers as had been the case on the first night of the 3-day event.
The brothers would battle it out until the first caution of the race came out for debris on the front stretch on lap 25. While under caution it would show that the 31M of Travis Mosely had mechanical failure needing to be assisted to the pits.
As the 01 of Taylor brought the field back to green we would see that the track was still full of speed with racing grooves spread across the track from top to bottom. Soon after the green flag dropped the battles for second thru third heated up as 14th place starter Cody Laney had made his way to the front in attempts to challenge both Peyton and Jeff for the top 3 spots.
The top 3 would battle it out but no one getting the chance to fully overtake the 01 car as he made his way thru lap traffic. Behind the 5 of Taylor would be the 6M of Wendell Wallace who began the race in the 17th starting spot.
After a late race flat tire change, Jayden Schmidt of Seymour, Wisconsin found himself back inside the top 5 were he would finish finale night of the Race for Hope.
As Peyton Taylor took the checkered flag for the final lap of the race to claim the $4,000 prize he also clenched the added bonus of $1,000 and the heavyweight championship belt for the mini points series from all three nights of events.
For more information visit www.BatesvilleMotorSpeedway.com
The Race for Hope 71 is sponsored by and would like to thank all of their sponsors including- IMCA.TV, Bad Boy Mowers, Skyway Auto Group, WestRock Coffee Company, Nutrien Ag Solutions, Hoosier Racing Tire, Schoenfeld Headers, and Raptor Designs.
Race Results 9/24/2022
1)Peyton Taylor
2)Cody Laney
3)Jeff Taylor
4)Wendell Wallace
5)Jayden Schmidt
6)Rusty Jeffrey
7)Spencer Hartwick
8)Richie Tosh
9)Jacob Campell
10)Roger Witt
11)Ashton Wilkey
12)Adam Maple
13)Jesse Dennis
14)Garrett Gregory
15)Brint Hartwick
16)Nathan Stewart
17)Dennis Schoenfeld
18)Tyson Keeney
19)Dillon Knight
20)Brandon Smith
21)Travis Mosley
22)Landon Meilke
23)Kip Glaze
24)Heath Grizzle
Photo Credits to: Seth Brickey & Jason Brickey
Article Media
Back to News