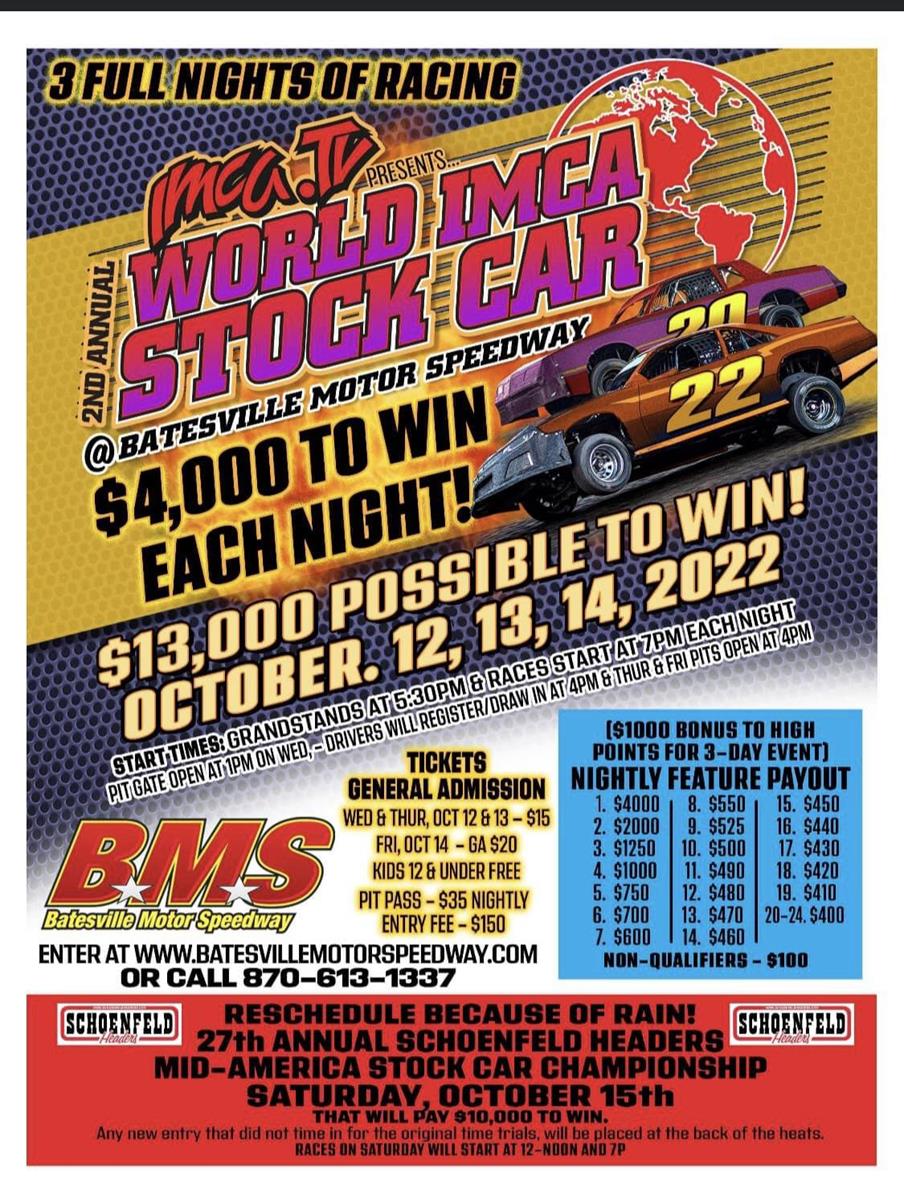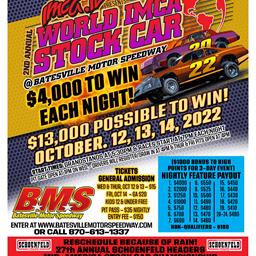 9/28/2022
Batesville Motor Speedway
---
IMCA.TV World IMCA Stock Car Championships and Schoenfeld Headers Mid-America Championship headline October at BMS.
Batesville, Arkansas 9/28/22
October 12-14 marks the 2nd annual IMCA.TV World IMCA Stock Car Championships. Drivers each night will compete in full shows of Heats, B and A Features with nightly payouts. The winners share for each night is $4,000.00 to Win, and $400.00 to Start. Each night drivers will gain points to be crowned as the World IMCA Stock Car Champion for 2022 and pocket and extra $1,000.00 for their efforts. Registration is now open for the event at batesvillemotorspeedway.com. Early registration is $150.00, late or day of the event is $200.00.
October 15 will see the rescheduled 27th Annual Shoenfeld Headers Mid-America IMCA Stock Car Championships. This event was rained out Labor Day weekend and now is in conjunction with the World Championships. Any new cars are welcome, and will join at the rear of the Heat Races. There will two complete shows this day at Noon and 7:00pm.
The Noon show will feature IMCA Stock Car Heat Races and a full show of Hobby Stocks and Cruisers for points. Then the 7:00pm show will see IMCA Stock Car B Features and their $10,000.00 to Win Championship Feature. Hobby Stocks, Cruisers and Legends Late Models will compete in full programs.
For more information visit batesvillemotorspeedway.com
Back to News