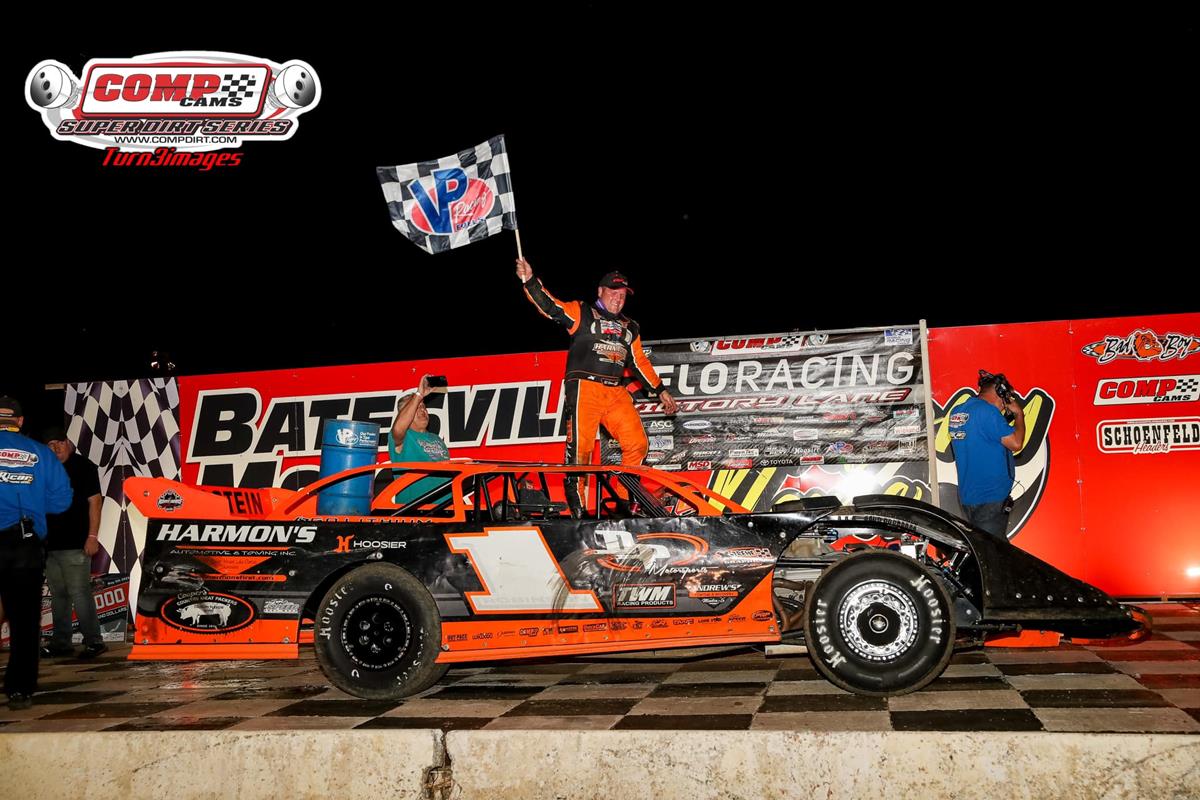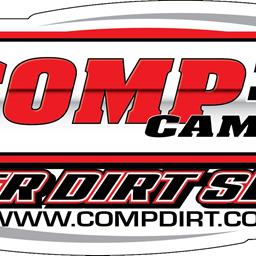 5/5/2023
COMP Cams Super Dirt Series (CCSDS)
---
B.J. Robinson Bests CCSDS Bad Boy Batesville Opener
LOCUST GROVE, Ark. (05/05/23) – From the seventh-starting spot B.J. Robinson powered to the lead on lap 19 and went on to claim the $5,000 COMP Cams Super Dirt Series (CCSDS) Super Late Models victory on Friday night at Batesville Motor Speedway.
"I knew it was gonna be hard, I thought I put on softer left side tires than most everybody," Robinson said in FloRacing Victory Lane. "I knew if I could just bide my time from the start, if I could hang my left sides right there by the wall, then I knew I could get by them and lapped cars was a little bit hairy there. All-in-all it was a good race, can't say enough about these cars here, we've been working real hard and things have finally paid off."
Defending series champ, Brian Rickman paced the first 18 circuits before Robinson took control.
Following Robinson and Rickman across the finish line in the caution-free affair was Kyle Beard, Brian Rickman, and Jon Mitchell.
Kyle Beard picked up the MD3 Bodies Hard Charger for advancing eight spots to finish third.
Robinson's win was the third of his career with the series and made him the sixth different winner in six series events so far this year.
Action continues on Saturday night with a complete $12,000-to-win COMP Cams Super Dirt Series Super Late Model program, which also include complete programs for IMCA Modifieds, IMCA Stock Cars, Hobby Stocks, and Arkansas Factory Stocks.
The pit gate open at 4 p.m. CT with grandstands opening at 5 p.m. Saturday will see hot laps at 7:15 p.m. with racing at 7:30 p.m.
Saturday grandstand admission is $25 for ages 15-and-up with kids (ages 10-14) $5 and children (ages 9-and-under) free with a paying adult. Pit passes are $35 on Saturday.
The CCSDS weekend tire rule is:
Left Front: Hoosier 1300 or harder
Right Front, Left Rear, Right Rear: Hoosier NLMT2, Hoosier LM20, Hoosier NLMT3, Hoosier LM30
For more information on the weekend, please visit www.BatesvilleMotorSpeedway.com .
The COMP Cams Super Dirt Series is sponsored by and would like to thank all of their sponsors including- COMP Cams, Pannell Chipping, VP Racing Fuels, Mark Martin Automotive, Keyser Manufacturing, Hyperco, Weiland Metal Services, Case No. 1 Engine Oil, Fiber Tec Laser Cutting, P&W Sales, Mississippi Police Supply, Mr. Dent Paintless Dent Removal & Collision Repair, FloRacing, Tommy Surrett Trucking, NewVisionCustomShirts.com, Rocket Chassis, Midwest Sheet Metal, Black Diamond Chassis, World Racing Group, Hoosier Race Tires, Smiley's Racing Products, Dixon Road U-Pull-It, Beach Veterinarian Services, Air Power Consultants, Schoenfeld Headers, MI Truck Center, ASC Warranty, Quickcar Racing Products, Deatherage Opticians, Taylor Electric, DIRTcar Racing, Mid-State Golf Cars LLC, Delta Thunder Motorsports, Advanced Powder Coating, Farmer's Tree Service, Autocraft Paint & Bodyworks, Toyota, MSD, ARP, Edelbrock, MD3 Five Star Bodies, Chevrolet Performance, SUBLMTD Apparel, and MyRacePass Website & PR Services.
For the latest information on the COMP Cams Super Dirt Series presented by Lucas Oil, please visit www.COMPDirt.com .
COMP Cams Super Dirt Series – May 5, 2023
Batesville Motor Speedway (Locust Grove, Ark.)
BAD BOY A Feature 1 (30 Laps): 1. 1-BJ Robinson[7]; 2. 14M-Morgan Bagley[1]; 3. 86B-Kyle Beard[11]; 4. 90R-Brian Rickman[2]; 5. 21M-Billy Moyer Sr[4]; 6. 5-Jon Mitchell[3]; 7. 21-Billy Moyer Jr[5]; 8. R5-Hunter Rasdon[8]; 9. C8-Timothy Culp[10]; 10. 86R-Rick Rickman[6]; 11. 60-Kip Hughes[9]; 12. 25-Mikey Kile[17]; 13. 17-Jarret Stuckey[12]; 14. 11-Jon Kirby[14]; 15. USA128-Kylan Garner[16]; 16. USA1-Chris Hawkins[20]; 17. 15-Clayton Stuckey[13]; 18. 19-Jamie Burford[15]; 19. 88-Chance Mann[19]; 20. 7W-Wesley Wise[22]; 21. (DNF) 3-Brennon Willard[18]; 22. (DNF) 7-David Payne[21]
DNS: Chance Mann, Troy Bynum, Dustin Holmes, Geoff Aitken, Travis Ashley
Entries: 26
Mark Martin Automotive Fast Qualifier Group A & Overall: Billy Moyer (13.473 seconds)
Integra Shocks & Springs Heat Race #1 Winner: Morgan Bagley
P&W Sales Heat Race #2 Winner: Brian Rickman
VP Racing Fuels Heat Race #3 Winner: Jon Mitchell
B-Main Winner: Kylan Garner
MD3 Five Star Bodies Hard Charger: Kyle Beard (11th-to-3rd)
Hyperco Hot Lap Fastest Lap: Billy Moyer Jr. (13.979 seconds)
NewVisionCustomShirts.com Pole Sitter: Morgan Bagley
COMP Cams Top Performer: B.J. Robinson
Midwest Sheet Metal Marked Man: Kyle Beard
Midwest Sheet Metal Rookie Award: Kylan Garner
Back to News