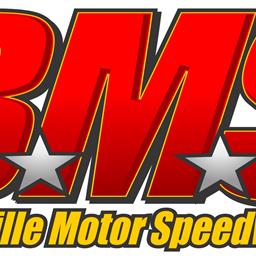 10/15/2023
Batesville Motor Speedway
---
Friday the 13th -Jacob Hobscheidt claims Night #2 Victory in Race For Hope 71
Batesville Motor Speedway - Friday, October 13, 2023
It was a Spooky Sweet Victory on Friday the 13th, Night #2 of the 7th Annual Race 4 Hope 71, as Jacob Hobscheidt, from Plattsmouth, Nebraska, took the lead with only a couple of laps to go. The win guaranteed Hobscheidt a starting spot in the Saturday night Feature event paying $10,000 to win.
Following Hobscheidt across the finish line were Ashton Wilkey (Batesville, AR), Brandon Smith (Floral, AR) Zane DeVilbiss (Farmington, NM), Ken Schrader (Fenton,MO), Wendell Wallace, (Batesville, AR), Tim Ward (Harcourt, IA), Ricky Engles (Mt. Pleasant, AR), Jeff Taylor (Locust Grove, AR), and Dennis Schoenfeld (Van Buren, AR) finished out the top ten.
---
Submitted By: Connie Starr
Back to News